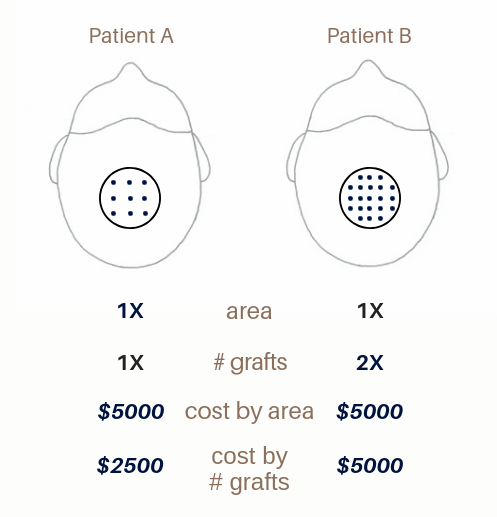 At the Groot DermaSurgery Centre in Edmonton, the hair transplant cost depends upon the number of grafts being transplanted. While some clinics charge by area, we continue to charge by number of grafts as do most of the best hair transplant clinics in North America.
One of the reasons for this can be illustrated by the following example. Let us suppose that Patients A and B both receive a true follicular unit hair transplant. Patient A receives 500 grafts in a given area whereas Patient B receives dense packing and gets 1000 grafts in the exact same area to achieve a higher density. Does it make sense that the cost is the same for Patient A even though he received half as much work? In fact, Patient A was likely less than half as much work because it is usually much easier to plant grafts at lower density than it is to plant grafts at higher density. If Patient A was charged by the number of grafts, he would have paid 50% less then Patent B. Moreover, he would know how many grafts he was getting. He would also have a better idea of what to expect from the transplant.
What is the Fairest Way to Determine the Cost of a Hair Transplant?
For this reason and others, we believe the fairest way to determine hair transplant cost is to charge the patient by the number of grafts as it more accurately reflects the amount of work required to do the procedure. We have contemplated charging by area as it would be easy to do. However, we have always come back to charging by number of grafts transplanted. What if your donor area was incapable of producing the amount of grafts we estimated? This is a rare event but occasionally occurs. If we charged by area, then the cost to you would be the same because we never told you how many grafts you were getting. If we charged by the number of grafts, you would be refunded the difference. You are only charged for what you get.
Number of Follicles versus Number of Grafts
If you decide to proceed with a transplant that is being charged by the area, you should ensure the surgeon tells you how many grafts you will actually be receiving. Be careful, though, that you find out how many grafts you will be receiving and not how many hairs or hair folllicles you will be receiving. The answers to those two questions do not mean the same thing. The difference is subtle yet substantial.
For example, if Patient A were to receive a multifollicular unit transplant of 2200 hairs, this would equate to approximately 440 grafts (assuming 6 hairs per graft on average). On the other hand, if Patient B were to receive a true follicular unit transplant of 2200 hairs into the exact same area, this would equate to approximately 1000 grafts (assuming 2.2 hairs per grafts on average). Would it be make sense if Patient A paid just as much as Patient B? We would argue Patient A should pay far less than Patient B.
Otherwise, it would make sense for all hair transplant surgeons to simply use larger grafts and charge by area. It would be faster and easier, notwithstanding the difference in naturalness from the two techniques.
With these two examples in mind, we believe the only way for a patient to really know what they are getting is to charge by the number of grafts. In this way, a patient knows what he or she is getting. With these considerations in mind, the hair transplant cost at the Groot Dermasurgery Centre in Edmonton can range from as little as $1,500 to more than $12,000 depending on the number of grafts.
---
Contact Us For A Free Hair Transplant Evaluation
Dr. Thomas Nakatsui MD FRCPC FAAD
Groot Dermasurgery Centre – Edmonton
Hair Transplant Questions? Contact us at:
780-482-7063
---
Hair Transplant Cost versus Hair Transplant Value
There will always be clinics offering transplants at lower cost and there will always be clinics offering specials claiming they have the lowest rates per graft. Some of these are in other countries. However, some are right here in North America. There are also patients who gravitate to the best deal they can get. When buying a TV, this is a great strategy. We all love a good deal but it is important to remember that hair restoration surgery is surgery and for the most part, irreversible. As a result, it is also very important to consider quality. We would argue that quality is more important than price.
We see patients every week who have gone elsewhere for their hair transplant procedure and now need corrective surgery to repair what has been done. In most cases. it can be done, but not always. Our best advice is to do research before proceeding with the procedure.
Wherever you decide to have your procedure, it would be best to ensure your surgeon has a lot of experience. Ask how many procedures they have done. Ask to see results of their own patients. Your surgeon should have many before and after photos to look at. Ask to see clear closeups of hairlines to see how these look as this is the true test of quality. The best transplants have beautiful hairlines that are undetectable with good density.
It may also be important to see how much experience the hair transplant team has. Have they worked with the surgeon for a long time? If you have any concerns, ask how many procedures they have worked on. It takes a long time to develop a good hair transplant technician, sometimes more than 50 or 100 surgeries before they can claim any real proficiency.
Financing a Hair Transplant
We do not offer any in-house financing. However, we have affiliated ourselves with other financial companies. Consequently, if you need assistance in spreading out the cost of a hair transplant procedure, you can contact Health Smart Financial. They will be able to assist you. You can contact them via their website. Alternatively, you can contact them at 877.276.2780.